Our Donors & Their Gifts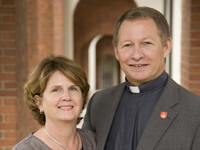 Katie and Rev. William Bell, Jr.'07 M.Div.
Bill and Katie Bell say they have four children: Mark, Timothy, Elizabeth, and the child they like to call "Charity." But Charity isn't any ordinary child. In fact, she isn't a human child at all. The Bells have divided their estate into four parts—to benefit all four "children"—and Charity represents the gift that they have made to Yale Divinity School.
Bill Bell came to Yale in 2004, after a successful career as a pathologist. He and Katie spent three years in New Haven while Bill pursued his Master of Divinity degree in preparation for entering the Episcopal priesthood. They settled in as members of the Yale community where Bill served as a chapel minister and Katie sang in the choir.
"Yale is a place with fruitful diversity," Bill wrote in a brief reflection about his time at YDS. "Much of the real learning comes from worshipping and conversing with people from an array of ages, backgrounds, and faith traditions," he commented.
Indeed, the Bells formed a number of relationships, and as they grew closer to many members of the community, Bill and Katie began to notice something that troubled them: many Divinity School students graduated with heavy debt that would be difficult to pay off when they entered the professional world. "For a lot of students, attending Yale Divinity School is a huge financial commitment and sacrifice," Katie Bell said. "We saw that happen to people of all ages, and thought that we could help."
When Bill graduated in May 2007, he and Katie decided to give something back to the Yale community that had welcomed them so warmly. They established a charitable remainder unitrust which will fund a scholarship after paying an income to Bill and Katie for their lifetimes. Yale serves as trustee, invests the assets, and manages the trust. The trust pays a relatively small income for the next ten years; then, at the time the Bells plan to retire, the trust will begin to pay a more substantial income. When the trust terminates, the remainder will be used to provide financial assistance to Divinity students in the Anglican Studies Program.
Bill said that he and Katie decided to make the donation in the spirit of "thanksgiving for the time we spent at Yale and the education I received." Their generosity promises to benefit students for many years to come.