Our Donors & Their Gifts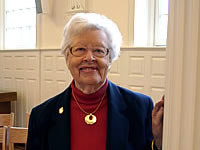 Dodie Younger '50 M.Div.
When Dr. Doris Anne Younger was a student at Yale Divinity School, a fellow classmate made a remark that has stayed with her. Her classmate said, "Those of us who have been blessed with a Yale education have a responsibility to use it."
The comment had a profound impact on Dodie, who, in the 50-plus years since her graduation from the Divinity School, still carries these words with her-- words which have set a standard for her life and work.
Working alongside her husband, the late George Younger '46, '50 M.Div, Dodie saw ecumenism and social justice as her calling. She recognized that only in working across denominational boundaries could they make a difference in the world, specifically in the areas of poverty, racism, and women's rights. She traces this passion to her ecumenical education at Yale, an education for which she continues to be grateful.
One way Dodie expresses her gratitude is through her charitable gift annuities. Dodie and George made a series of these life income gifts to honor the many advantages that Yale Divinity School gave them, including the gift of each other. It was at Yale Divinity School that the two met and were married. "George and I saw our gift annuities as part of our overall financial planning. By making gifts that gave payments back to us, we were able to make much larger gifts than we ever thought possible. Now I use the annuity payments I receive to fund a life insurance policy which will provide for my children and grandchildren."
Dodie continues, "We all love to look back at the things we are grateful for, the experiences we have had, and the organizations that have been important to us. At the same time, we have to think forward. What is important to me is that the institutions that have meant so much to me will be able to remain strong. I feel a responsibility for the future and to see that the organizations I value continue to grow and thrive."