Our Donors & Their Gifts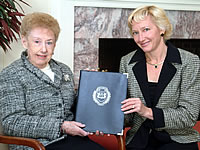 Ellen Frasca Evans '81
"I consider my charitable gift annuity to be truly a 'win, win, win' for my mom, for me, and for Yale."
When Ellen Frasca Evans was contemplating her twenty-fifth reunion gift in early Spring 2006, she sensed an opportunity to connect a number of ideas, and, as she puts it, "the light bulb went on!"
She goes on to say, "I was finishing a six-year stint on the board of my son's school, and had heard about life income gifts through my involvement there. My Yale reunion gift committee was discussing them, too. At the same time, my mother, a widow, was moving into a continuing care retirement community where she had to make a significant initial investment, and pay a maintenance fee considerably greater than her former monthly expenses. She was concerned that with the added costs, she would no longer be able to travel, splurge on gifts for her grandchildren, or treat herself to something special once in a while. Although I offered to pay some or all of her expenses, she didn't feel right about accepting support from her daughter.
I met my husband, Peter, in September of my freshman year at Yale. I feel blessed by my Yale experience and credit it with much of my personal happiness and professional satisfaction today. I wanted to give something back to Yale to mark the major milestone of my twenty-fifth reunion. So I decided to invest in a charitable gift annuity to benefit my mom during her lifetime, and ultimately to benefit Yale students. As a surprise, I presented the gift annuity to my mother on the occasion of her eighty-second birthday. The fixed quarterly payments go to my mother and I received a significant income tax charitable deduction. I also earned reunion and campaign credit for the full amount of my gift. When the annuity terminates, the remainder of my gift will be used to support Yale athletics. "
Ellen, who has an M.B.A. in Finance from the Wharton School, spent her career initially in general management consulting followed by the pharmaceutical industry, and currently oversees the development of cancer drugs at a biomedical firm. She and Peter Evans'81 have three active school age boys. A member of the women's cross country team while at Yale, Ellen continues to run regularly and has completed six marathons since turning age 40. Peter, a Whiffenpoof of 1980, sings in a local men's a cappella group.
Summing up her decision to make her twenty-fifth reunion gift in the form of a gift annuity to benefit her mother, Ellen says, "From a fiduciary standpoint, I am confident in Yale's investment management team. And in terms of my mom, I know my decision to fund a charitable gift annuity will provide stable and reliable income to her for the rest of her life. With the added cushion she receives from her gift annuity payments, I know she feels more financially secure. And while she refused to take money directly from me, she couldn't say no to a gift to Yale that benefits her as well – a true win-win-win! "