Our Donors & Their Gifts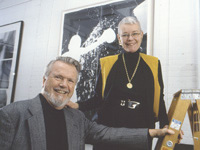 Nancy and Robinson A. Grover '58,'75 MSL
"Nancy and I recently reviewed our wills and decided to leave a significant percentage of our estate to Yale. Over the last decade our assets have grown more than we expected. Thus, we are able to make bequests to create endowments for Yale Law School, the Yale University Art Gallery and Yale School of Art. Our hope is that the funds we establish will promote original, challenging, and excellent thinking about law, photography, and art."
Rob remembers that he enjoyed "as fine an education as one could obtain" as an undergraduate at Yale. After nearly ten years of teaching philosophy at the University of Connecticut, Rob returned to Yale in 1974 and spent a sabbatical year at the Law School where he obtained a Master of Studies in Law. In gratitude for the far reaching educational impact of his times at Yale, Rob decided to leave a bequest to Yale Law School to endow a fund to support research and scholarship in law and the humanities.
Besides Rob's devotion to the law, he and his wife Nancy have another passion: they have been collecting contemporary photography for the past twenty years. In another extraordinary act of generosity, they are giving their collection to the Yale University Art Gallery because, as Rob states, "The Gallery has superb facilities to conserve and display photography. In addition, it has outstanding curators, a tradition of imaginative directors, and an excellent collection of photography. Equally important, it is a teaching museum where art works are displayed and discussed. We are thrilled that students will be able to examine original images."
Rob and Nancy's bequests will also endow funds to support the fine arts program in photography at the Art Gallery and at the School of Art. "Our bequests allow the deans and directors great flexibility. We envision that the endowments may support visiting artists, curators, and scholars. Or they could be used for lectures, conferences, exhibitions, and publications. There are so many creative and gifted students whose educational experiences in the arts will be enhanced by these resources."
Rob continues, "I have included bequests to Yale in my estate plans in gratitude for its academic teaching excellence and in recognition of its prudent financial management. The Law School is often cited as the best in the country, and the School of Art is equally a leader in its field. The Art Gallery is exceptional and extraordinarily well regarded. Nancy and I cannot think of a finer purpose for our estate."