Our Donors & Their Gifts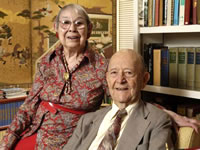 Gregory L. and Mary F. Hutchison, Friends of Yale
In 1907, when Lon Lewis Hutchison traveled from his frontier home to pursue further study at Yale's Sheffield Scientific School, he could not have imagined the impact his brief time in New Haven would have on future generations of graduate students exploring geology and geophysics.
Lon Hutchison received his Masters of Science degree from Yale in 1908 and returned to the Midwest to direct the Oklahoma Geological Survey. He later became an independent geologist and established his own oil company.
"Discovery, innovation, collaboration…and just plain hard work. Yale University challenged my father in ways he had not been challenged before," said Greg.
He continues, "I am named after Herbert E. Gregory, Silliman Professor of Geology who was one of my father's Yale professors."
In 1996, Greg and Mary Hutchison established a charitable remainder unitrust to eventually create the L.L. Hutchison Memorial Fellowship Fund for Geology and Geophysics. The fellowship is intended to provide needed resources for Yale graduate students to continue their studies in his father's field.
For many years, Greg and Mary, his wife of sixty-four years, received monthly income from the unitrust but chose to add those payments back to the trust so the fellowship fund could grow even faster. Since Mary's death in March, 2007, Greg has continued to reinvest the income from the trust in this way.
As Greg sums it up: "Trying to understand the environment in which we live continues to be as exciting and important today as it was when my father was a student. I'm pleased that Yale's careful investment management has helped my trust to grow steadily. I'm also confident that the Hutchison Fellowship will support the collaboration, interdisciplinary scientific research, and exploration that epitomized my father's life's work."