Our Donors & Their Gifts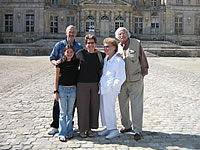 Donna Dubinsky '77
Donna Dubinsky recognizes the importance of giving back – to both her parents and her alma mater.
After graduating from Yale in 1977 and earning an M.B.A. from Harvard Business School, Donna embarked upon a career in high-tech. She was part of the team that turned the PalmPilot into a major new computing and consumer electronics category. She is currently co-founder and chief executive officer of Numenta, Inc., a technology development firm that is creating a new computer memory system modeled on the human brain. In July, 2006, Donna was appointed a trustee of Yale's governing board, the Yale Corporation.
"Coming to Yale from high school in Michigan, I benefited enormously from the generosity of Yalies who had come before me, and I feel the same obligation to the generations of students that follow," she said recently.
As she contemplated her gift to the Yale Tomorrow campaign, Donna and her husband, Len Shustek, also were seeking to provide financial assistance to Donna's parents, who had recently moved to a continuing care facility. "My parents were concerned that their assets might not be sufficient to sustain their lifestyle over the long term, but they were uncomfortable about accepting support from Len and me. So with the help of our attorney, we set up a charitable remainder annuity trust. The trust will pay a fixed amount each month to my parents during their lifetimes and then the remainder will be transferred to Yale. The CRAT allowed me to give a major gift to Yale for the campaign, while at the same time helping my parents in a way that worked for them."
Donna and Len were especially pleased to learn that Yale could serve as the trustee and that the trust's assets would be invested under the direction of the Yale Investments Office. "Given Yale's fantastic track record in investment management, it made all the sense in the world to have the University manage the trust, particularly given the low administrative cost."
A self described "serial entrepreneur," Donna recognized a perfect opportunity to achieve significant personal and philanthropic returns while investing in the future of Yale.