Our Donors & Their Gifts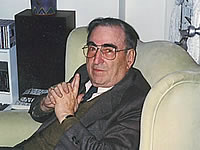 Judge George A. Saden '31
In crafting his estate plan, Judge George A. Saden was guided by two principles — his love of learning and his devotion to Yale.
Judge Saden lived in Bridgeport, Connecticut for most of his life where he attended Central High School before coming to Yale. He was elected a member of Phi Beta Kappa in his junior year and graduated summa cum laude from Yale in 1931, receiving the Henry H. Strong Prize in American literature. After receiving his law degree from Harvard and serving as a Major in the army during World War II, he returned to Bridgeport where he practiced law until being appointed as a Superior Court judge in 1971.
In 1986, 55 years after graduating from Yale, Judge Saden pursued his long held dream of studying at Oxford University, where he received a diploma in Legal Studies. He returned to the bench in Connecticut, hearing cases and rendering decisions until shortly before his death at age 92, but continued to make annual visits to Oxford.
Judge Saden carefully planned his estate to create a broad and lasting legacy. In 1999, he created the John S. Saden, Lillian Chavenson Saden and Charlotte Marion Saden Memorial Scholarship Fund to honor his late parents and sister and to provide financial assistance to Yale students, especially those from his hometown of Bridgeport. It was following his death in 2003, however, that the full impact of his generosity to Yale was realized. As the result of an additional significant bequest, the Saden scholarship fund currently supports four exceptional Saden Scholars at Yale College.
The Judge further honored his family members by providing in his will for the funding of endowed professorships in their names. The four recently established chairs in the humanities will enhance the University's ability to recruit gifted and accomplished teachers and researchers and to maintain the excellence of Yale's educational mission.
Lastly, reflecting his passion for American and British literature, Judge Saden designated funds from his estate to establish a program to bring visiting scholars from Great Britain to study and teach at Yale.
Judge Saden's legacy is but one example of how bequests to Yale have shaped and supported the University for over 300 years. By including Yale in their estate plans, thousands of donors, through gifts of all sizes, continue to touch countless lives.