Our Donors & Their Gifts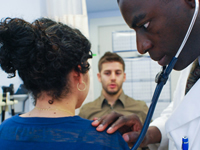 Medical student Leonard Edokpolo '12 M.D. examines a patient at HAVEN
John Allen Jones '58E, '59 M.S. and the HAVEN Free Clinic
John Allen Jones '58E, '59 M.S., has a keen interest in nurturing programs that strengthen Yale's relationship with the larger New Haven community.
Since 2009, John has been an enthusiastic supporter of the HAVEN (Healthcare, Advocacy, Volunteerism, Education, Neighborhood) Free Clinic, a collaborative project of Yale and the Fair Haven Community Center.
HAVEN's model is unique, in that it includes students from all of the Yale health disciplines: medicine, nursing, physician associates and public health. Its programs are completely free, and are supported entirely by donations of time and services.
At the HAVEN Clinic, underserved New Haven residents receive access to medical care, while students have the opportunity to broaden their clinical education by volunteering at a community-based facility.
HAVEN lab director, Rachel Popick, who anticipates graduating next year from Yale School of Nursing, comments "we are able to fill a gap in healthcare for the uninsured in Fair Haven by offering not just medical services but also assistance on social services, health education, referrals to specialists, and other free or low cost services in the community." She continues, "as students, we get the opportunity to improve our clinical skills, learn about running a health center, and learn from our patients and their experiences."
Emily Thomas adds, "my role as the Education Co-director has been the defining experience of my first year of medical school. As a Yale medical student, I labored to memorize and analyze facts about how the body works, but as a volunteer at HAVEN, I had the opportunity to see these facts take shape, not as simple mechanisms in a body, but in a dynamic and complex person."
Through gift annuities that he previously established with Yale, John has created an endowed fund which will ensure long term funding for the student run clinic. John requested that the fund be named in honor and memory of Dr. John B. Goetsch, a longtime urological surgeon in New Haven and assistant professor of surgery at Yale School of Medicine, who was a loving and wise mentor to John in his youth. Their friendship lasted 30 years, filled with many shared times and fond memories.
John noted: "It's hard to overstate my joy at learning that a small gift annuity, given years ago, had become a substantial sum that could now be used to support the work of the HAVEN Free Clinic, a project that brings enormous benefits to everyone it touches - both at the University and in the city of New Haven."